Power Distribution Transformer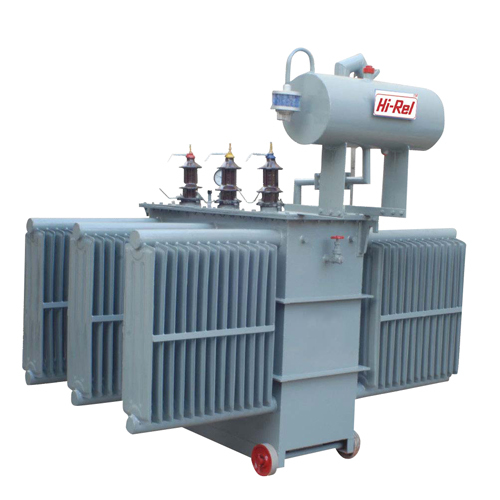 Power Distribution Transformer
Distribution Transformer that we are supplying is widely recognized for its top-notch quality, long service life, and optimum performance. The provided transformer is an electrical machine that has got the capability to produce constant alternating voltage. It is used to operate a plethora of electrical machines and instruments in the industries. Owing to its unmatched quality and ability to function uninterruptedly for the prolonged duration, we are facing a huge demand for the product. Distribution Transformer can be purchased from us in myriad sizes and technical specifications.
TRANSFORMER
Introduction
Hi-Rel Offers a wide range of Quality Power & Distribution Transformer manufactured in the state of the art unit in National Capital Region.
Hi-Rel have a strong R & D Team of highly experienced & Qualified professional always heading towards upgrading technology & Specification.Our main objective is improvement in technology.
SPECIFICATION
3-Phase, 50Hz in voltage of 11KV, 22KV & 33KV.
Off-Circuit Tap Changer to provide + 5% to -5%.
Class A Insulation.
Vector group Dyn-11 as per Customer.
Alluminium/Copper Wound.
Painting as IS/IEC Standards.
HV Side: Bare Bushing/Cable Box.
LV Side: Cable Box/Bus Duct.
Standard Fitting as per IS 2026/IEC 76.
FEATURES
Designed for trouble free performance for 20-25 Years.
Designed conforming is IS 2026, BS 171, IEC 76.
Low Loss Designs & Limited audible Noise.
Type Tested Designs to withstand impulses & Thermal & Dynamic Stresses.
Modern Manufacturing Techniques ensure cost effectiveness & reliability.
OPTIONAL ACCESSORIES
On-Load Tap Changer(OLTC).
Pressure relief Valves without Contact/with Contact.
Buchloz Relay with Alarm & Trip Contact.
Oil Temperature Indicator with alarm & trip contact.
Magnetic Oil Level gauge with alarm contact.
Marshelling Box to house Oil Temperature indicator & Winding Temperature Indicator.
Neutral Current Transformer.
Get in touch with us